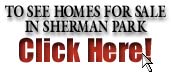 ---
Sherman Park
residents take
pride and comfort
in their neighborhood
---

Sherman Park offers many choices in housing of distinctive quality and value. Noted for the greatest concentration of brick and Lannon stone homes in Milwaukee, the area abounds in dwellings that feature the craftsmanship of a bygone era. Leaded glass windows, gleaming woodwork, and elegant fireplaces highlight modest bungalows and elaborate residences alike.

Many streets in the area are canopied by gigantic oaks and elms, forming shady retreats from the summer sun. Colorful flowerbeds offset well-maintained lawns, and backyard garden plots reflect the pride residents take in home ownership. Apartment buildings dotted throughout the area provide comfortable living for singles and young couples.

Decades of acceptance and understanding have made the Sherman Park neighborhood a prime example of how people from different backgrounds can enrich life for each other and create a stable, harmonious environment. Sherman Park "works" because of the people who live within its borders. Some of the other amenities that make Sherman Park an attractive residential choice include:


Different organizations with the same goal are actively seeking families who can contribute to and benefit from owning a home in the Sherman Park area. Programs such as St. Joseph's hospital's Walk-to-Work, and area lending institutions promote the availability of Sherman Park homes in a variety of price ranges. They also are sources of financial counseling and assistance in some cases

A number of neighborhood banks cooperate with Sherman Park residential purchase programs, the Milwaukee Board of Realtors, and Multiple Listing Service, Inc., underwriting various costs of home ownership awareness programs and presenting attractive purchase arrangements.

Other attractions for residents include a wide selection among excellent public and private schools, neighbor hood libraries and recreational opportunities and beautiful parks. Easy freeway access to down town or suburban jobs is another plus. Full city services including prompt snow plowing, garbage pickup, and an extensive recycling program additional features in Sherman Park.
Search for Homes in 53216, Sherman Park, Milwaukee, Wisconsin.