---
St. Catherine's church
and the Agudas Achim
synagogue are two
of the many religious
facilities in
Sherman Park
---
---
St. Joseph's Hospital
is one of the city's
most acclaimed
health care facilities
---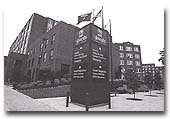 The Sherman Park Community is a multi-cultural potpourri located in the heart of Metropolitan Milwaukee's landscape. It is a unique neighborhood offering many distinct advantages.

Essential to the lifestyle of any community are quality schools and places for residents to worship. Both entities are readily available to Sherman Park residents. Public, private and specialty schools abound and there are numerous churches, synagogues and temples to fulfill the needs of all denominations. Additionally, within a short distance, there is an abundance of junior colleges and universities.

Specialty and ethnic shops as well as neighborhood stores and services can be found throughout Sherman Park. They include everything from animal care to supermarkets, from home renovation stores to a major mall. Just about anything and everything can be found somewhere in Sherman Park.

Sherman Park's neighborhoods are clean and attractive. The various styles of architecture within the community provide a visually appealing "garden" environment. Because Sherman Park is located in an urban community, homes are of high quality and available at very affordable prices.

A fine public transportation network and the nearby freeway system make the entire city and its suburbs accessible to all of Sherman Park's 43,700 residents.


Four parks are located in Sherman Park or within short walking distance of the community. Sherman Park residents can enjoy such activities as biking, golfing, swimming, and tennis. During the summer months, picnics and listening to music or live theater under the stars are additional attractions. Just minutes away, residents can visit other recreational and cultural outlets such as the Performing Arts Center, Milwaukee Art Museum, Milwaukee Public Museum, The Bradley Sports Center, The Pabst Theater, MECCA Convention Center, Milwaukee County Baseball Stadium and the nationally acclaimed Milwaukee County Zoological Park.


In addition to the many area medical, dental, vision and hearing facilities, Sherman Park is fortunate to have two fine hospitals within the community. The 112-year-old St. Joseph's Hospital is one of the city's most acclaimed health care facilities and treats as well as employs many Sherman Park residents.
Certainly, the greatest asset of Sherman Park is the proud people that reside here. People such as United States Senator Herb Kohl and Bud Selig, owner of Milwaukee Brewers and Commissioner of Baseball, have called Sherman Park home. They, along with many others, work, live and pray together to create a homogeneous community with a superior quality of life. As a result, Sherman Park will enjoy as bright a future as it has an illustrious past.