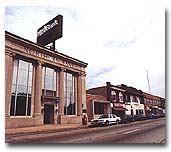 ---
Sherman Park
offers substantial
and diverse
business districts
---
---
Burleigh St.
is just one of
Sherman Park's
many business
districts
---


Substantial and diverse, Sherman Park business districts run throughout the area, offering residents a wide variety of shopping and convenience services. Commercial food points include West Center Street / Appleton Avenue, West Burleigh Street, West North Avenue / Lisbon Avenue, West Fond du Lac Avenue, and Capitol Drive.

Well-known retailers have a strong presence here. Target, Kohl's Foods, Sentry Foods, Cub Foods, Walgreens, McDonald's, Burger King, Taco Bell, Kentucky Fried Chicken, and Serv-U Pharmacies are among the regionally and locally recognized chains which have chosen to do business in Sherman Park. A "city" of 43,700 people, Sherman Park is also home to many banks, music stores, restaurants, service stations, dental and medical clinics as well as two main hospitals.

Specialty shops, though, are the neighborhood's trademark! Located here are European Bakeries, Kosher Deli's, and stores packed with health foods, unique clothing, fine furniture, antiques, music and musical instruments, gardening supplies, and decorating/renovation materials. Walking along one of the commercial strips is a treat as store fronts introduce one pleasant surprise after another.

Like most older urban communities, Sherman Park has its share of long-standing business stalwarts who have been quiet providing goods and services to the neighborhood and the city at large for decades. What do you need? Sherman Park has it: auto parts and supplies, beauty shops and barbers, communications equipment, bikes and accessories, printing, TV and stereo repair, employment, accounting and legal services, carpet cleaning, hardware, fine restaurants, retail display services, even Private Investigators. You name it, we've got it.

Every commercial district has at least one bank, several eateries, and most have strong religious institutions dotting the streetscape. Bus service is frequent and reliable. 'I'he Uptown Business District, located at the intersection of North Avenue and Lisbon Avenue, is also situated at the terminus of the stadium North Freeway. While Sherman Park is in the center of Milwaukee's West Side, the freeway system allows travel from downtown to the heart of the neighborhood in less than 15 minutes.

Our area's business climate is strong now and the future looks even brighter. Two favorite landmarks -- a popular neighborhood cinema and an ornate theater that brought vaudeville productions to Sherman Park -- are under renovation and will reopen soon. New restaurants and specialty shops are also popping up on a regular basis throughout the community. Sherman Park has a strong local economy, a potent consumer base, and an exciting future.