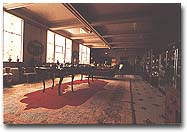 ---
There is often a
wonderful selection
up for bid at the
Schrager Auction
Gallery
---
---
There is always plenty
of activity at Mary
Ryan's Boys & Girls
Club
---


A weekend list of neighborhood errands: pick up the order at the Kosher supermarket, drop off the books at Finney Library, get the rye bread at the bakery, make dinner reservations at one of the area's fine restaurants, pick up fresh produce at the Farmer's Outdoor Market, order the Turtle Cheesecake for next week's party for the pastry shop, bring the chipped wine goblet to the crystal repair shop, get the storm window fixed, deposit the kids at Mary Ryan's Boys & Girls Club, and catch the end of an antiques sale at the auction gallery.

And each of these stops is in the Sherman Park neighborhood, home to world class purveyors of everything from cheesecake to garden fresh cauliflower, and cloisonné figures. Many of Milwaukee's retail jewels are located within Sherman Park.

When a city census revealed that 14,000 children call the area home, the $5 million Mary Ray Boys & Girls Club situated its 55,000 square foot facility as the centerpiece of the park from which the neighborhood takes its name. Meanwhile, families can take advantage of the indoor pool and gymnasium available at a nearby high school. Elderly residents enjoy the varied activities and meal programs at senior centers in the Sherman Park vicinity.

From midsummer through early fall, farmers from surrounding areas bring fresh produce, eggs, and flowers to a crack-of-dawn Sunday market in the parking lot of The Triangle, a focal point of the Uptown Business District. An annual Spring Cleanup gets neighbors organized to rid the area of the last traces of winter. And enjoyment for all awaits at the summer's ShermanFest -- a huge block party showcasing retailers and entertainment events for the entire family.

Winter promises ice skating and cross-country skiing at nearby Washington Park. Those who prefer the indoors can choose a roller rink, movies, bowling, or dining at any of the area's fine ethnic and specialty restaurants.

Unique to this West Side enclave is Sherman Park Today!, a free newspaper distributed to over 17,000 households in the vicinity. It is published by the Sherman Park Community Association, founded in 1971 and boasting the largest resident membership in the city. The Association also sponsors ShermanFest and the Neighbors Watch program, an all-resident volunteer group formed to preserve the quality of life in Sherman Park.